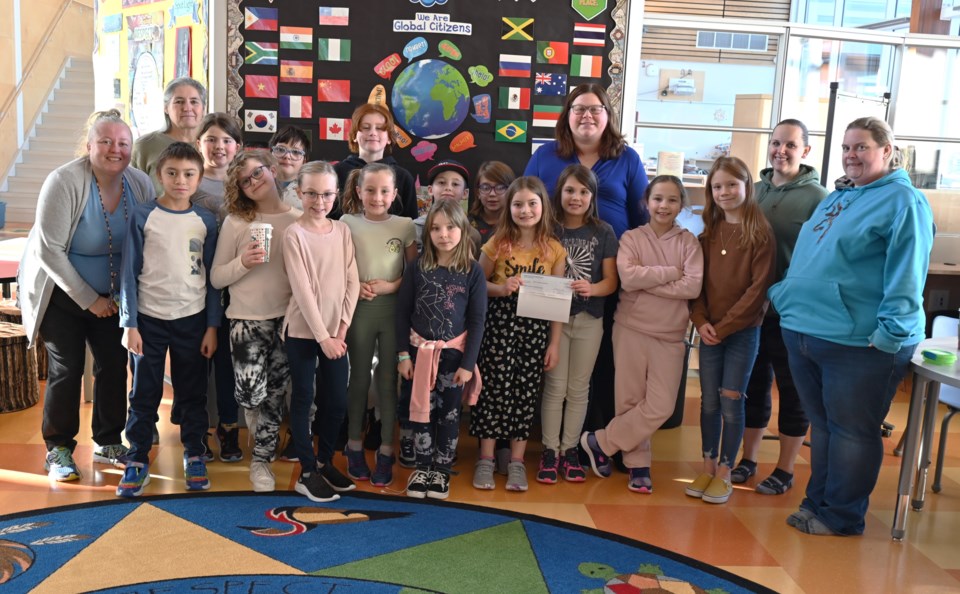 By Dave Lueneberg/Alaska Highway News
A young group of students at Margaret Ma Murray Community School in Fort St. John are learning first-hand what it means to give back to their community.
Through a joint project between the Fort St. John Rotary Club and the school, kids help to raise funds for different charity groups.
On Wednesday, EarlyAct, a leadership club in the school, presented a cheque for $700 to the Meals on Wheels program.
"We had heard that Meals on Wheels needed some help and we thought we'd help out," said teacher and coordinator Meagan Bracey.
"That's what we like to do at our school. We do a lot of fundraising, but this is the first time we've raised for Meals on Wheels and it's something we'd like to do annually."
Bracey said the group also involves itself with other projects like the hospital foundation's Be an Angel campaign, writing cards to soldiers at Christmas, as well as funding for kids cancer, the Terry Fox Run and SPCA.
"A majority of our clients are seniors," said Pauline Bolen with Meals on Wheels.
"The meals are prepared within the seniors' housing kitchen and then delivered Monday through Thursday. On Thursday, they're provided with two meals, which helps them greatly."
"Some of our clients don't have the capability anymore to create their own meals but they want to stay in their own homes."
Meals on Wheels currently serves between 40 and 45 residents, per week, in an area stretching from Taylor to Charlie Lake.
Bolen said this particular cheque will help to provide meals for three seniors for about three months.