Fort St. John Rotarians gathered May 30 to celebrate and say farewell to one of its founding members, Dudley Wagner.
Wagner, who turned 87, was one of 34 charter members of the club when it formed in the city in 1963. After a long life and career in Fort St. John, Wagner is moving to Kamloops to be closer to family.
Wagner first came to the Peace Country in 1956, and moved up in January 1957. It was the early days of the region's fledgling oil and gas industry, and Wagner came to set up a chemical and geological lab.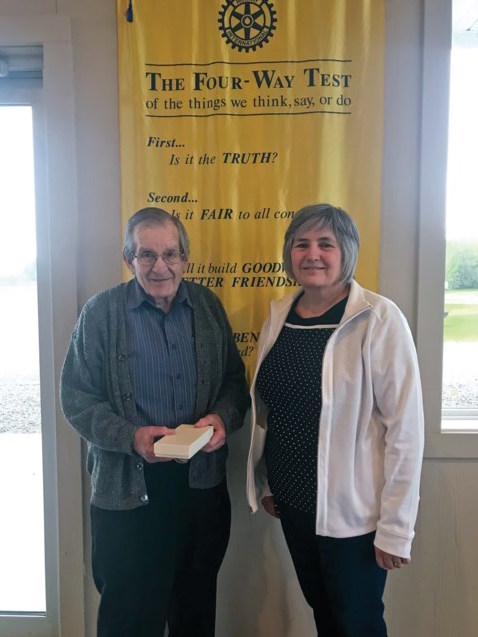 "Five years later they wanted me to go back to Calgary, and I said no, I'm going to stay here," said Wagner. It was the friendliness of the people and the way he was welcomed that made Wagner want to stay. "They're just so friendly. They were so welcoming when I got here, and I just became part of the community," he said. "Now I'm going to be sorry to leave it."
Wagner is also a charter member of the Fort St. John Petroleum Association, and was its first secretary when it formed in 1958-59. He was only original member to still attend the club's monthly meetings on a regular basis, and always said a heartfelt and oilpatch-oriented grace before every meal.
Rotary though has been the cause most dear to Wagner's heart.
He was walking at the intersection of 100th and 100th in 1963 when Frank "Pop" Spicer — the town baker — and a man named Jack Mackie approached him. Mackie, it turned out, was in town to start a Rotary Club, and after explaining the basics to Wagner, he signed up.
They needed 20 people for the charter, and eventually got nearly three dozen. Spicer was named president, and they threw their first party on May 17.
Wagner says the Rotary four-way test, the club's ethical guide, and the code of conduct changed his outlook and became a way of life for him. "It does so much good the world over for making peace and helping people," Wagner said.